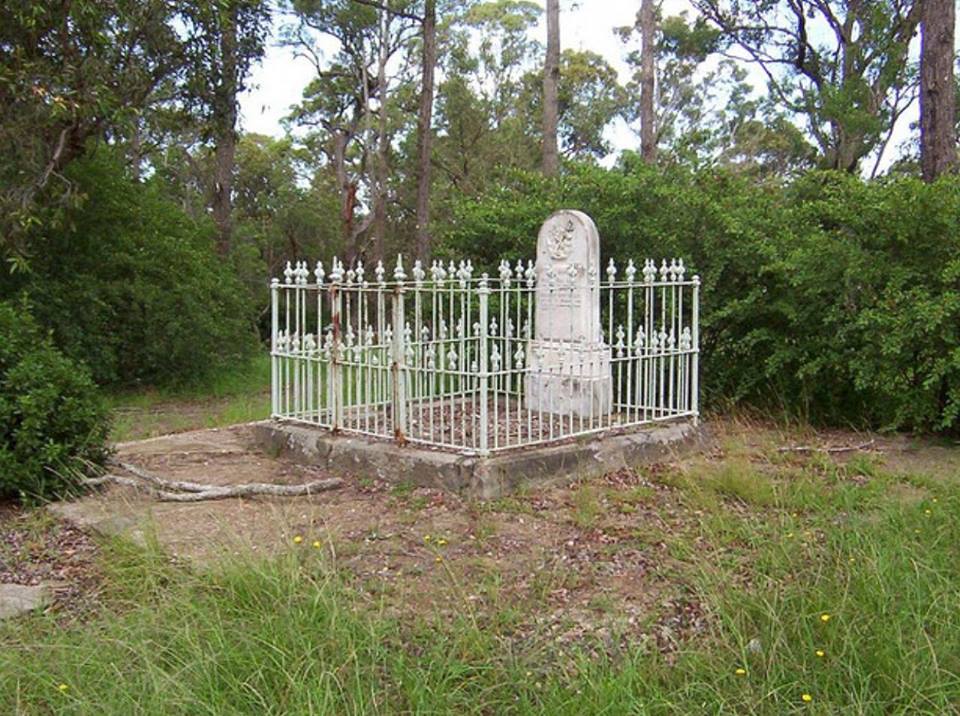 The question appeared on Lost Newcastle, "Does anyone know this grave? It use to scare us when we were kids."
Lone graves always seem so sad. Unloved and forgotten.
This from Margaret at Lake Macquarie District Historical Society:
In a small park along Park Parade, Marmong Point stands the grave of William Bell and Margaret Scott Quigley (nee Mitchell).
The following extract, from an article titled The Laurels (a historic property at Stockton), gives a brief history of the Quigley family …
Agusta and James Mitchell had 3 children – Agusta Marie Mitchell born 1834, David Charles Frederick Scott Mitchell born 1836 and Margaret Scott Mitchell born 1840.
When James Mitchell died on 1st February 1869 his estate was held in trust with one third to provide an income for life for his wife Agusta, and on her death, the remaining estate to be held in trust and divided between the 3 children until David turned 21 and the girls turned 21 or married.
Agusta had married Edward Christopher Merewether, David never married. Margaret married William Bell Quigley in 1870 after her father's death.
It would appear that William Quigley, who was born in Ireland near Belfast , was not in favour with James Mitchell because he was an Irish Catholic and once worked for the family as a stable hand.
With the money left to her from her father's estate Margaret and William built a house at Teralba where they had a family of 4, James Mitchell Aspinal Quigley born 1871, Agusta Sophie Quigley born 1874, William Frederick Bannister Quigley born 1875 and David Quigley of whom there is no further reference in the records.
William died when he fell from his horse in 1879 while Margaret Scott Mitchell died in tragic circumstances when her clothes caught fire at her home, and she ran about 100 metres to the Lake but she died in hospital in 1887. Her estate was left to her children, James Agusta and William. As there is no mention of David it is assumed that he died.
The NSW BD&M register have no birth records for any of the above mentioned children? There is however, death records for William F. B. Quigley (1400/1913 – Chatswood) and Augusta Sophia Quigley (59741/1972 – Newtown).
William died about 7 years before Margaret and the location of his grave was lost.
I obtained the following information from a paper called "TERALBA – Some notes on its early history" prepared by members of the Lake Macquarie & District Historical Society.
The current grave was occupied by Margaret alone until Mr. J. P. Cowdery, a manager of the Quigley Estate, discovered the location of Williams grave. The site was excavated and Williams coffin and remains were re-buried alongside the grave of his wife. An elaborate monument, which still stands today, was erected over the grave(s).
Apparently the site was originally a burial place for the Teralba township but most of the graves were not marked with headstones and the Quigley grave is the only one that exists today.
This grave is somewhat unusual in that, it is well preserved, despite being previously located in a housing development.
And here are some of the comments from the Lost Newcastle Facebook group:
Leanne Morton McFarlane Ok I couldn't help myself , I'm just out picking up my son from work at Maccas Glendale 11pm , so I thought I'd drive past this grave yard ! yes it was spooky the moon is full and shining directly onto the grave , it's foggy and very spooky out there. I must admit i probably drove out of there a bit quick But Iam going back tomorrow for a better look.
Coral Allen Jess Pickard

, its in the history of the land that they are not to be destroyed. I remember reading somewhere, I know Housing NSW where not to touch them when they built the Townhouses.

Bigjohn Young

DEAD Right any Contractor on the site was under instant dismissal if you at any way harmed or done anything near the GRAVE