Designed by Edmund Blacket and constructed between 1857 and 1860, St John's Anglican Church in Cooks Hill is Newcastle's oldest standing church with a busy and vibrant modern congregation. [Local Treasures ABC Radio 2013]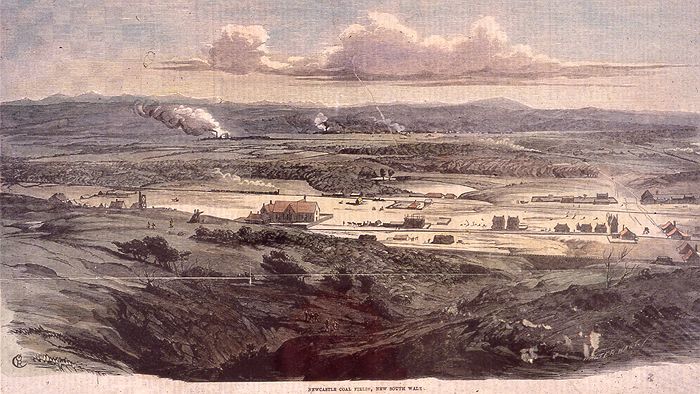 Reverend Stewart Perry says even though it is the oldest standing church left in Newcastle, it's got a lot of history and is, "Above all, it's just a gorgeous building."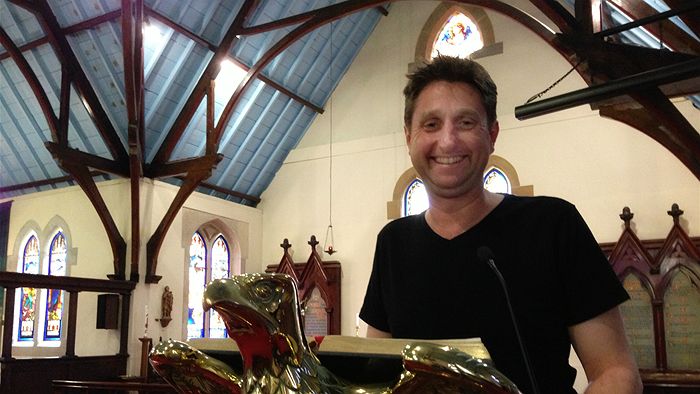 Unusually, the timber ceiling of the church is painted pale blue and dotted with stars, Rev Perry says it's a feature of the work of the architect, Edmund Blacket, "People often wonder if the stars are something that was added later but it was one of the original features."
"It was a trademark of the architect who designed the building. He painted the ceilings blue and had stars just near the sanctuary so that when people looked up they saw a glimpse of the heavens. If you were in a wealthier community your stars tended to be gold-gilded but in a working class community like Cooks Hill was originally your stars were silver."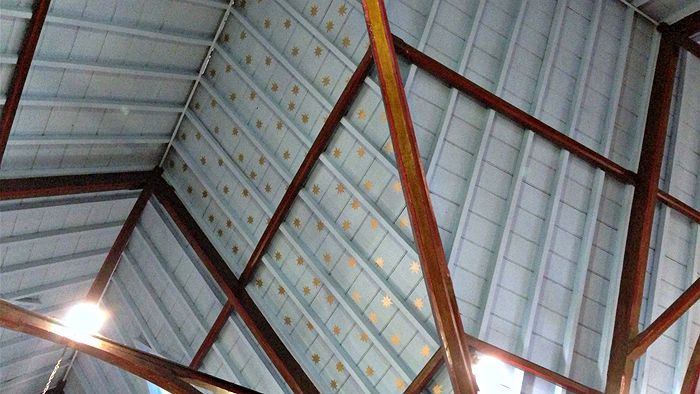 "Part of the light aspect of the church comes through the restoration of the stained glass windows which have brought out of the walls and framed with a blue border. At different times of day the sun just streams through and often when I'm doing a wedding on a Saturday afternoon, the bride is standing at the front door with the glare of the sun almost creating a halo or aura effect around her, which I'm sure the groom is quite impressed with."
"St John's has changed over the years. The misconception of old buildings is that they have to be kept in the same format. Originally it was built to seat 400 people and if you look around you'd wonder where we'd put them all, but during our 150th anniversary a few years ago we did squeeze 400 people in. They weren't very comfortable but we did it."
"There's been a re-arrangement of the pews, which in Anglican church history is a momentous event. They've added a stepped feature at the sanctuary level of the church and we've got drum kits and PA systems and screens that come down from the ceiling so it's certainly changed a bit."
The heritage status of St John's brings its own challenges.
"We've been very blessed to have funding from the heritage society to do some of the restoration work in the church but there are some things that sometimes aren't practical in a growing church, to have things in a certain format and furnishings that you'd really love to be able to change but because of the heritage of the building we need to consider that carefully."
What does Rev Perry consider to be the special items or treasures of St John's?
"There are many 'treasures' and most of them are donated by family members of people who've passed away so if you look around our building you'll see little memorial plaques everywhere. We've also got a big brass birdy (eagle) that we read the Bible from on a Sunday morning, that was donated by a family."
"At the back of the church is the font, one of my favourite parts where historically we used to do all of our baptisms. We don't do so many of them there anymore but the idea comes from the early church that you weren't allowed into the body of the church until you were baptised so you come in the door, you get baptised on the way and then you can sit in the church. I can't imagine how many children, and adults, would have been baptised in that font up there in the corner."
"Absolutely everything that you see in a church has a story attached to it. All of the artwork comes from a time before most people could read so stained glass windows and art and big brass birdies were ways of letting people in on the secret – only the clergy and the educated could read the Bible, and so they looked to this beauty to try and capture some of the sense of God's love and God's majesty."
"St John's also has the oldest working pipe organ in Newcastle. It's an amazing instrument and sounds magical."
There are no burials at St John's. Rev Perry says that lots of people 'left' from here but ended up in graveyards all over Newcastle, "The church was built when there was a number of gravesites around Newcastle. We're one of the few churches that never had a graveyard attached to it."
"When Gionni Di Gravio (from the University of Newcastle) did some history for the 150th anniversary a few years ago, I had a look at the funeral register and a lot of people were buried around Mayfield and Wallsend but had their services here at St John's. It's interesting how wide the catchment was in the original days of St John's."
One of the stained glass windows of St John's Anglican Church is only relatively recent and remembers the tragic deaths of a local couple.
"It was dedicated in the mid-1990's and donated by the family of Leeca and Anthony Atkinson who died in the Seaview air crash in 1994,"
"It's a special place for that family but for me it has the image of Jesus at the wedding banquet where his mother tells him to sort out the problem of having run out of wine and it reminds me that even though it's a sad spot, it really does ground you that what we do isn't always joy and wedding bells, there's a lot of sadness that goes on in people's lives, but God's abundance in that story comes through, and in that window."
"I often look at it and think I'm so blessed to have been here and to deal with a community that is so amazing."
Further reading from Heritage Council of NSW
The Church walls are hand pressed sandstock bricks, rendered inside and out, on mudstone foundations with stone windows and door surrounds. It is cruciform in plan, 105ft long, 92 ft across transepts, the nave is 30ft wide. The high pitched timber roof trusses have hammer beams and support purlins, rafters and boarding under the present aluminium sheeting which replaced at least two previous coverings. Most pews are of the original cedar, restored, All the windows are of stained or pressed glass, some are original. The Walker two manual pipe organ was made and installed in 1866.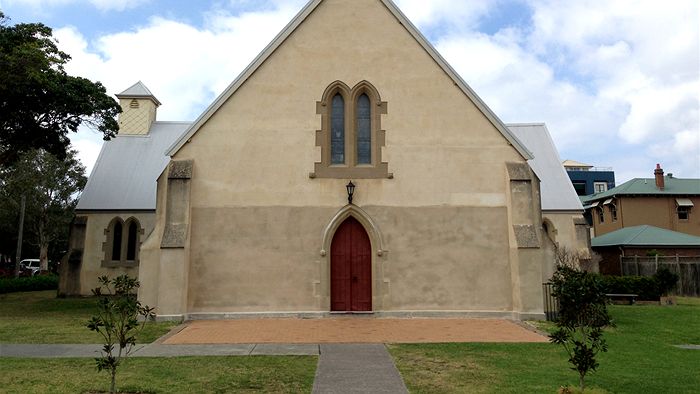 The Hall walls are also sandstocks on stone foundations with a galvanised iron roof, the former two-storied master's house is now the hall kitchen, entrance hall and meeting room, with Sunday school quarters above.
Modifications
1863-64 – Church exterior walls were rendered
1865 – Bellfry added to north gable 
1920 – North transept was converted to a chapel 
1952-53 – Sanctuary floor was replaced by a raised concrete slab and a nave centre aisle was adopted
St John's is the "mother" church of many Newcastle parishes and is linked with the history of early Australian white settlement. Through the Australian Agriculture (A.A.) Company, which donated the land for the site, some A.A. directors in England subscribed money to build the church, school hall, and rectory. The most generous being Walter Stevenson Davidson, who accompanied John Macarthur's dispatch to England in disgrace for taking part in a duel. Davidson was a nephew of Sir Walter Farquhar, Bart., Physician to King George IV, and a patron of Macarthur, who went on to found the Australian wool industry, with some of the sheep from the Royal flock.
St John's history begins in the period of William Tyrrell, the first bishop of Newcastle and his efforts to provide schools and churches, the period of the "United Church of England and Ireland", the transition of Newcastle from mining to industry and residential, and links with colonial chaplains and their subsidised salaries.